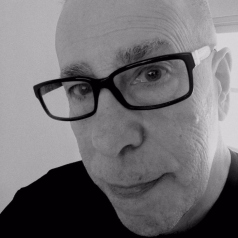 JAMES BACCHI
Black and white photography
About the Artist
James Bacchi is a San Francisco-based Gallerist and Curator. Bacchi was awarded a Bachelor of Arts in Media Studies from Antioch University (Center for British Studies) in 1982. Since then, he has co-founded Galleries in New York and San Francisco, and has guest juried and curated several fine art and photography exhibitions on both coasts. Bacchi has been featured by several publications including; New York Daily News, Manhattan Arts International, San Francisco Chronicle, California Home & Design, Culture Trip, and Art Slant.
Read More
Bacchi began his inaugural Mobile Photo Series, #inthesky, in 2015. A portfolio of 16 photographs, each limited to an edition of 7, was released in 2017.
Urban inspiration for Bacchi's #inthesky series now includes international cities such as New York, Palm Springs, Rome, San Francisco and Budapest. Select works from #inthesky have been exhibited in San Francisco and New York and are slated for Miami December 2018. Images from #inthesky San Francisco were recently spotlighted in "4-Squared" at Arc Gallery, San Francisco. Select works from the #inthesky city series have now been reserved exclusively for Artful Galleries, all produced in a limited edition of 7.
©2021 Artful Galleries LLC
Design by Kim Brill Code by Brad Cable
SIGN UP FOR OUR NEWSLETTER