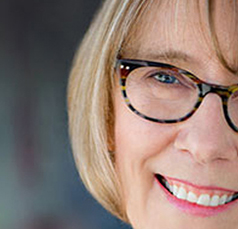 KIM BRILL
Kilnformed Glass
About the Artist
Kim is a graphic designer and an art director who has always loved glass. Living in Austin, Texas has proven fortuitous for her as there is a renowned glass teaching studio there, as well as a growing number of talented glass artists.
Read More
For Kim, strong design is critical for each glass piece. She seeks to use interesting color combinations regardless of technique and direction. Kim continues to explore various glass concepts in the studio, and what she learns there impacts her design work, making it more interesting and dynamic. Kim has attended kilnforming residencies at Pilchuck, North Lands Creative Glass in Scotland, and most recently, at Bullseye Santa Fe. The dramatic high desert of New Mexico has inspired a new body of work for her based on abstraction of the environment.
Kim's series of landscapes "Plaza Blanca, New Mexico: Investigations" was juried into the 2016 Bullseye Emerge/Evolve exhibition along with work by artists from 16 countries. In early 2017 a panel from this series was chosen by the Corning Museum of Glass for inclusion in New Glass Review 38, where each year 100 works are selected from around the world to represent the best new ideas that are emerging in the world of art glass.
©2021 Artful Galleries LLC
Design by Kim Brill Code by Brad Cable
SIGN UP FOR OUR NEWSLETTER