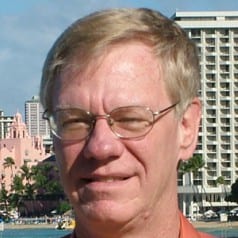 BILL OAKEY
Photography on canvas
About the Artist
Bill Oakey is an artist photographer from Austin, Texas. He started by selling flower photo greeting cards at the Zilker Botanical Gardens gift shop in 2001. Then he began exhibiting his works in art shows and local galleries in 2006.
Read More
His themes include flowers, landscapes, architecture, interior scenes and just about any other subject that captures his imagination. Some of his inspiration came from his father, also named Bill, who showed Kodak color slides of his flower photos at San Antonio Garden Club gatherings.
In 2009, Bill won the People's Choice Award for his "Cactus Flower" photo at the Austin-Lima Sister Cities "Art Across the Americas" exhibit. His works have appeared in solo shows, group shows, and in collaborations with oil painter, Debbi Smith Rourke. The collaborative exhibits featured Bill's photographs alongside Debbi's interpretations of his photos, in shows titled "Side By Side."
Highlights of Bill's exhibits include juried shows at the LBJ Wildflower Center, the Austin Visual Arts Association, the Old Bakery and Emporium in downtown Austin, and participation in the annual 5 X 7 fundraiser at the Contemporary Museum. Some of his recent works have been purchased by Austin Mayor Steve Adler, City Council Member Leslie Pool, and Travis County Treasurer, Dolores Ortega Carter. In 2016 Bill won second place in the national Canvas Press Automotive Photo Contest, and third place in their Flower Photo Contest.
©2021 Artful Galleries LLC
Design by Kim Brill Code by Brad Cable
SIGN UP FOR OUR NEWSLETTER