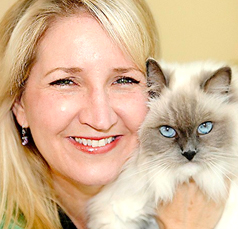 AMY HILLENBRAND
Contemporary still life in oil
About the Artist
Amy Hillenbrand is an accomplished oil painter living in the Alamo city, San Antonio, Texas. She was born and raised in Wisconsin and graduated the University of Wisconsin, Madison with a BS in Interior Design. She has lived in Indianapolis, San Diego and Austin before moving to San Antonio in 2014. She started painting after a long career as an interior designer in the commercial design world. After selling her firm, she was called to paint.
Read More
Amy's style is contemporary realism. Her years of using color and composition as a designer also influence her paintings. Her large flower portraits were influenced by her life-long love of plants and flowers. Then, the death of her Mother brought this calling full circle. Amy always gifted her Mom flowers on every occasion throughout her life and during her Mother's two year struggle with cancer she sent her flowers every two weeks. After her death she couldn't bring herself to paint much else. They are a symbol of birth, of growth and healing. So now, before she begins each painting, she makes specific healing intentions that she infuses into her work. Intentions such as unconditional love of self, letting your light truly shine, intense gratitude for health, and letting go. It is her desire that her paintings not only add to the aesthetics of the space but, are healing and meaningful to the owner.
©2021 Artful Galleries LLC
Design by Kim Brill Code by Brad Cable
SIGN UP FOR OUR NEWSLETTER