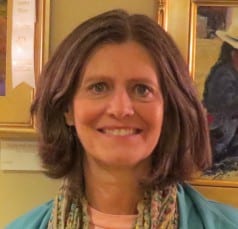 PAM HOLNBACK
Oil paintings in the contemporary impressionistic style
About the Artist
Art and creativity have been Pam's passions since childhood. Born in Chicago, and raised in Illinois and New Jersey, she began art lessons while in kindergarten. She was fortunate to have grown up in a home where creativity was part of every day life. Her love of art continued and ultimately led to a college major in Art Education.
Read More
During and after college, Pam spent six years studying, traveling and teaching overseas. These travels led her to spend two years each in Europe, the Mid East and South America. During her twenty-eight years of teaching, her love of travel often found itself integrated into her art units and lessons. Now, many of the treasures purchased on past trips find themselves as subject matter in still life works.
Coming from a valuable art education background, Pam realizes now as an oil painter that the years of teaching art and talking daily about the principles of art and elements of design are basic in the initial drawing and development of each painting. This is true whether she is painting a still life, landscape, animal or figure. Pam's love of the out-of-doors and the west is expressed in her many architectural landscapes. Done both plein air and in the studio, these landscapes reflect her enjoyment and love of her surroundings, travels and nature.
Pam has been juried into many local, state and national exhibitions. She is a member of Plein Air Artists of Colorado, The American Impressionist Society, Women Artists of the West and Garden Artists Plein Air Group. Pam has studied with Lorenzo Chavez, Skip Whitcomb, Kathy Anderson, Jill Carver, Peggi Kroll-Roberts, Michael Klein, Natalie Italiano, Carol Marine, Studio Incamminati, Martha Mans and Nelson Shanks.
Pam's goal as an oil painter is to allow the viewer to see and to share her love of her environment, whether it is her garden, or her time spent outside near and far. Each painting is done with loose, spontaneous brushwork and expresses the light and color that she sees – all in the contemporary impressionistic style. She is a lifelong learner and continues to take art classes and workshops. It is after all, all about the journey, whether through traveling or painting. Pam lives with her husband, Peter, in Colorado Springs, Colorado. Their two children are grown, which allows them additional reasons to continue to pursue her passions of painting and travel.
Select Exhibitions:
2017
G44 Gallery Holiday Show, Colorado Springs, CO
"Passionate Color" 1st Annual Juried Show, Roux & Cyr International Fine Art Gallery, Portland, ME
Guest Artist, Gallery 113, Colorado Springs, CO
Lone Tree Art Expo Juried Show, Lone Tree Arts Center, Lone Tree, CO
South Park Plein Air Arts Celebration, Fairplay, CO
Plein Air Artists Of Colorado (PAAC) National Juried Show, Mary Williams Fine Art, Boulder, CO
Gala Art Show & Auction, Colorado Springs Fine Arts Center, Colorado Springs, CO
"All Things Colorado," Gallery TwentyOne 8, Colorado Springs, CO
Sunny Vista Living Center Juried Show, Sunny Vista Living Center, Colorado Springs, CO
2016
G44 Gallery Holiday Show, Colorado Springs, CO
Abatina Boutique, Colorado Springs, CO — Guest Artist
Paint The Town Plein Air Event, Florence, CO — Patron Award
South Park Plein Air Arts Celebration, Fairplay, CO — Honorable Mention
Plein Air Artists Of Colorado (PAAC) National Juried Show, Mary Williams Fine Art, Boulder, CO
Cheyenne Mountain State Park, Colorado Springs, CO — Guest Artist
"Grasslands Inspiration IV Show," Mari Michener Gallery, University of Northern Colorado, Greeley, CO — Best Of Show
Cacao Chemistry, Colorado Springs, CO — Guest Artist
Littleton Paint-out Plein Air Event, Depot Art Gallery, Littleton, CO
"May Flowers" Juried Show, Kreuser Gallery, Colorado Springs CO
"Gardens & More" Show, Summerland Gardens Gallery, Colorado Springs, CO
Sunny Vista Living Center Juried Show, Sunny Vista Living Center, Colorado Springs, CO
2015
G44 Gallery Holiday Show, Colorado Springs, CO
Colorado Plein Air Exhibition Juried Show, Denver, CO — 2nd Place Emerging Award
Florence Paint The Town Plein Air Event, Florence, CO — Patron Award & 3rd Place in Show
"Art For The Endangered Landscape: Honoring Wolf Creek" Juried Traveling Show, Pagosa Springs, Durango, & Alamosa, CO
South Park Plein Air Arts Celebration. Fairplay, CO
Plein Air Artists Of Colorado (PAAC) National Juried Show, Mary Williams Fine Art, Boulder, CO
Depot Arts District "All Colorado" Juried Show, The Depot Art Center, Littleton, CO
"Wind" Juried Show. Bridge Gallery, Colorado Springs, CO
Sunny Vista Living Center Juried Show, Sunny Vista Living Center, Colorado Springs, CO — First Place Oils.
Richeson 75 Still Life & Floral Juried Show, Richeson Art Gallery, Kimberly, WI —
Meritorious Entry
"From The Heart" Juried Show, Epperson Gallery, Crockett, CA
©2021 Artful Galleries LLC
Design by Kim Brill Code by Brad Cable
SIGN UP FOR OUR NEWSLETTER