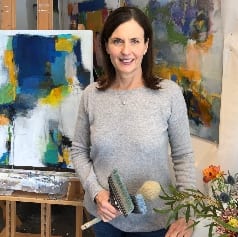 VALERIE CORVIN
Contemporary Abstracts
About the Artist
Corvin's paintings are a poetic dance between the seen and the thinly veiled. Each artwork represents personal and artistic discoveries – her willingness to struggle with the challenges of the process to find the beauty and composition that satisfies.
Read More
Combinations of organic forms with geometric shapes are the underlying structure, punctuated with mark making to evoke a sense of tension and excitement. Subsequent layers of thinned paint quiet the canvas in areas to reveal only a portion of the painting's sub-layers. In all her works, Corvin seeks to create a quiet energy while enticing the viewer to look closely to discover what hints and glimpses of shapes lie underneath the layers.
©2021 Artful Galleries LLC
Design by Kim Brill Code by Brad Cable
SIGN UP FOR OUR NEWSLETTER